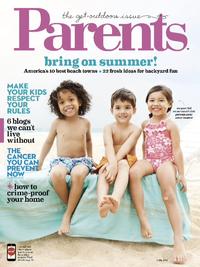 In anticipation of the summer months, Parents reveals its exclusive list of beach locations that are tops for families with children of all ages. From the cleanliness of the sea and color of the sand to the abundance of inland attractions and nature activities, the "2013 Parents 10 Best Beach Towns" deliver all the ingredients for a magical vacation with kids.
Whether you're looking for a day trip destination or a weeklong respite, this list provides the perfect combo of land and sea. This summer, Parents has designated family vacation hotspots that deliver all the ingredients for a magical stay: pristine ocean, beach safety, and a boatload of inland fun. As a bonus, despite their paradisiacal locations, the 10 Best Beach Towns are affordable –no hotel room starts at a higher price than $289 per night, and several come in below $200.
"Successful family vacations are about finding a balance," says Dana Points, Editor-in-Chief of Parents. "If you find a spot that has something for everyone, you know you've struck gold. This year, our picks have it all: beautiful beaches, great dining, activities for all ages and interests, and all without breaking the bank."
Please visit the Parents magazine website (www.parents.com) for the full article and the methodology they used to make thier selections.
FOX 29 & Jack Lingo REALTOR, Rehoboth Avenue Cam
Jack Lingo Testimonials
BTW I wanted to thank you and your team for all of the rentals this summer. Great job! Cheers
~ Cedric -
Many thanks for the excellent service. We've been so impressed with how you operate over there!
~ Jennifer F -
It's great working w/all of you at Jack Lingo. You made our first full season with the beach house easy. Looking forward to another great year this year!
~ Diane -
Thank you for all you do---you and your team are great.
~ Joan G -
The house was very nice and Jack Lingo service was/is awesome! If anyone ever asks, I always say check out Jack Lingo realtor..
We had an awesome week, the only complaint, it went by way to fast!
Thank you for everything,
~ Sherri P -
I appreciate everything you all do for us--you are the best--and we tell folks that!
~ Melanie B -
Thanks for the letter, we're having a wonderful time! It seems that every year we come down here we find a nicer and nicer place!
~ Jarrett V -
First, let me tell you about the WONDERFUL time we had~Super Moon, a wedding on the beach (that turned out to be an Susquehanna Univ alum~and that's where I work), movie on the beach, and some very cool waves after the two storms. It was GREAT! Thanks again for your great, great service!
~ Julie Waltman -